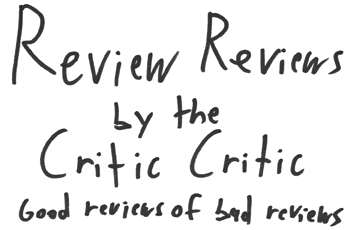 With the rise of crowdsourcing sites like TripAdvisor and Yelp, more and more people are writing reviews of everything from electronics to bean curds, and everyone is a critic. But how do you know whether a review is any good? Presented here are reviews of reviews, by a critic of critics. You will want to read the original review first.
Subscribe to the RSS feed to be notified of updates.
An impersonal riposte to a personal attack on Ron Funches
A focused review of a rambling play-by-play of a standup comedy show.
An A+ review of a low-D review of a show called C-.
One long review of six short reviews that were probably also written by one guy.
A mature assessment of a juvenile veneration of a movie for children.
Talking man-to-man about a show by and for women.
An accurate assessment of an error-riddled review of Guillermo del Toro's latest film.
A far-too-long review of four far-too-short reviews of shows coming to the Vancouver Fringe.
A blog post with two reviews of an article with three reviews of shows at the Edmonton Fringe.
A five star review of a five star review of "one of the funniest performances at this year's Fringe."
A review that shouldn't be of something that should be a review but isn't.
A Gen-Xer explains a Baby Boomer's misunderstanding of something Millennials are into.
An exposé on a writer's obsession with Andy Kindler's obsession with Ricky Gervais.
A well-reasoned one-star review of a bizarrely justified three-star review of a show at the Winnipeg Fringe.
A pseudo-comedic critique of a pseudo-intellectual critique of The Big Sick.
Intentionally missing the point of a review that unintentionally misses the point of Rory Scovel Tries Stand-up For The First Time.
One man's opinion of one woman's opinion of Norm Macdonald.
The very first review review, which spawned this whole dumb enterprise.